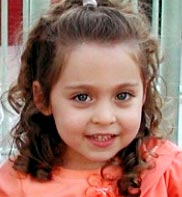 Identifying other children who have had extreme reactions to Influenza is critical to this research – but extremely difficult due to privacy laws.

If you know of a child who has died suddenly from Influenza or other illnesses, please have his/her family
Contact Us.


The Amanda Kanowitz Foundation has been established in memory of Amanda Rose Kanowitz, a beautiful, fun-loving four-year-old little girl who died suddenly from Influenza B on March 1, 2004.
Our mission is to save other children and spare other families the devastating tragedy of losing a child. Accordingly, we will work with top doctors and researchers across the U.S. to:
Increase awareness of the risks of Influenza and the importance of vaccinating all children and adults

Promote development of better vaccines and effective antiviral drugs

Determine which children should be considered high-risk for extreme reactions to Influenza and other infectious diseases

Identify preventative measures and proactive treatment to protect high-risk children

Develop treatment for high-risk children to prevent serious complications/death once severe immunological reactions have been triggered