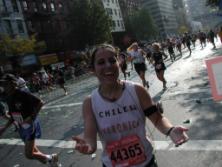 Upcoming Events

September 24, 2005
Second Annual Family Fun Day Benefit

Wollman Rink in New York City's Central Park

Festivities will include carnival rides and games, entertainers, face painting, art projects, great food, and a silent auction.



Run for the Rainbows

In 2003, Amanda and her Mommy were excited to cheer on their friend, Veronica Torrens, as she ran past the street where they lived. Amanda had been so thrilled that she was able to 'help' by giving Veronica a drink and taking her picture.

On November 7, 2004, Veronica will run in the NYC Marathon in honor of Amanda's memory. To make a donation, please click here.